-Takayuki Ikkaku, Arisa Hosaka and Toshihiro Kawabata
In looking through my archives, I've noticed how very little I have written about my ten year old daughter in this space.
Not for a lack of interesting personality tics on her part, I think it's because,of my three daughters (ages: 11, 10, and 2,) she is the peace maker, easy going, understanding and longsuffering. Posting about how my daughter, "almost had an argument with me today, but thought better of it and did what I asked, anyway..." would make for a less than thrilling read for those of you who have 12-second-blog-reading-intervals.
I also think she is sparingly documented here because subconsciously I consider her to be the most like me. Writing about her would be redundant, because I so often write about me.
But that's not really true. She is sublimely separate from me, creative in ways I can only hope to imitate.
This fall, she wrote a story about a witch who messed up a candy recipe on Halloween and inadvertently turned her whole neighborhood into dragonflies. The witch is so clumsy and cute, she makes your teeth ache.
In early April, she began hinting, mentioning, discussing at length, her tenth birthday...in mid June.
She wanted a Vintage Japanese theme. She'd like to have Japanese food, paper lanterns, parasols, and Cherry Blossoms. And a Candy Bar.
She told me to "run with it."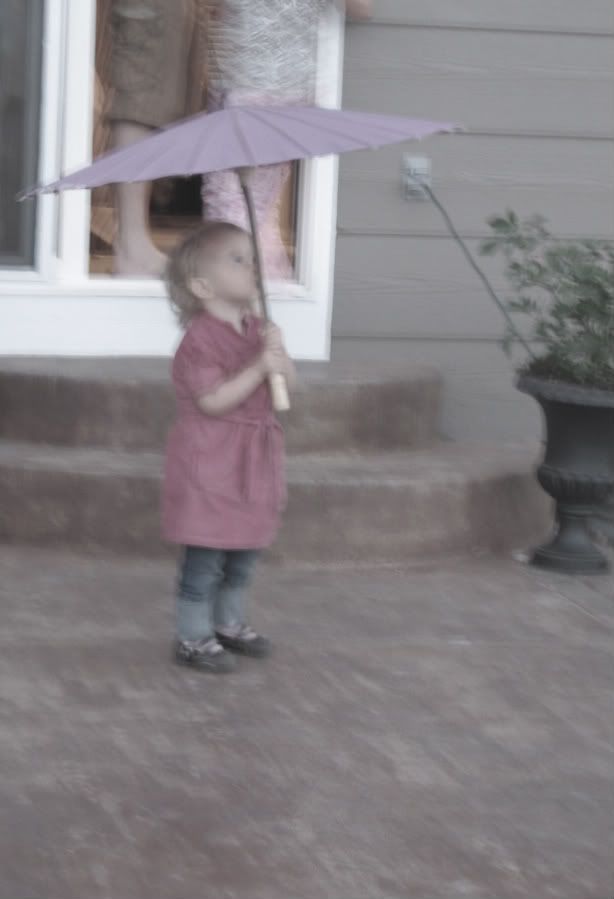 And I did...after some rather intensive Google searches and desperate phone calls to my
sister
. I bought orchids for this party, rather than balloons. ((I think that will be a new tradition: Flowers in lieu of latex. However, I have most decidedly cornered the market on the Neighborhood Crazy Plant Lady.))
Birthday Pancakes are a tradition around this house. We subscribe to the idea that one should eat cake for every meal on your birthday.